By Gillian Kranias, Health Nexus
"We're saying equity and collaboration all the time, but we rarely make precise what we mean."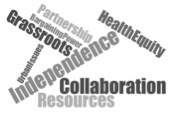 These are the words of Dr. Patricia O'Campo and Amy Katz from the Centre for Research on Inner City Health (CRICH). Recently, these two researchers generously co-hosted a focused dialogue with Health Nexus on what gets in the way of collaborations between communities and health-related agencies?  Fifteen people participated in the dialogue—ten in person, and five online.
I was excited to have set aside a morning to engage with CRICH's research work among a room of peers. Some of the tensions in my work supporting health equity collaborations needed teasing out. My goal was to have a deep conversation about what really matters when collaborating with communities: where is the most solid footing to leverage meaningful systems change?
Research demonstrates need to shift power relations with stakeholders
Last year, the World Health Organization (WHO) asked Dr. O'Campo and her research team: What is the best way to bring different stakeholders together to collaborate for health equity in urban settings? Once CRICH had defined their terms (e.g. collaboration) and looked at some of the literature (in particular documents from the WHO's Commission on Social Determinants of Health) a clear message emerged: "It's not about better technical solutions to stakeholder engagement. It's about a shift in power relations."
Naga City, Philippines, is an example of how decision-making in an urban setting can shift to include a broader range of stakeholders.  For many years, people living in poverty organized independently through grassroots groups, with a focus on secure access to housing. Eventually, a progressive mayor was elected and the municipal government formally integrated these grassroots groups into municipal decision-making, a shift that included the redirection of resources.
To make change, we have to deal with the issue of power.
Dr. Patricia O'Campo
O'Campo and Katz's work uncovered this case study and other research which challenges our assumption that collaborating with large institutions always helps equity-seeking communities.  When front line workers are asked to deliver technical solutions to political problems (eg., 'better' mechanisms for stakeholder engagement), Katz observed, "We often find ourselves tasked with advancing and mitigating a neoliberal agenda at the same time."
How can a collaborative process shift power relations?
Stories Shared
Josina (CAMH) used Arnstein's ladder of participation to see how partners perceived the focus of their joint activities. When people from equity-seeking groups put their dots lower on the ladder, this prompted some important reflection about what was going on, despite people's best intentions.
When doing community-based research, Pat (CRICH) lets the community partner "hold all the money".  Although she has had pushback with funders about this, she has found that it made a significant difference to the community partner.
As staff at a community health centre, Gillian supported grassroots groups to identify and publish their own "Grassroots Priorities" in the context of a social housing revitalization project. Their document became a reference point to "rate" proposed redevelopment plans and to negotiate with officials.
As part of their solutions-focused research, O'Campo and Katz redirected their efforts to explore the conditions for collaboration which best support health equity.
Their emerging findings highlight some pre-conditions for meaningful collaborations in municipal contexts:
The presence of progressive, independent grassroots groups with sufficient resources (eg. money for lawyers, community organizers, etc.) to influence a given process (Arnstein, 1968).
Grassroots groups that collaborate with each other or are federated into a formal umbrella group as was the case in Naga City (Pithouse, 2008; Santos BdS, 1998; Avritzer L, 2013).
Genuinely non-conservative political parties in power who are open to working with independent grassroots groups (Souza, 2006).
Based on these, they identified some emerging implications for large organizations/municipalities that wish to engage in collaborative partnerships to advance health equity:
Be clear about you/your organization's motivations, intentions and limits.
Be transparent when you talk about the structure of your process together.
Flow resources to grassroots groups without directing their agendas. This could include funding, space, healthy food, childcare, meeting facilitation, transportation, printing, legal services, interpretation, desk/computer and trusteeship.
What does this mean for our practice?
Through small groups, our dialogue participants identified some implications of the CRICH findings for our own collaborative work:
Honestly discuss why each of us is here. Spell out all the reasons. Acknowledge different positions of social power and access to resources around the table. 
Ask "how can we do less harm?" Make more time to reflect on this.
Embrace critical feedback. Use any discomfort generated by our position(s) of privilege to motivate positive changes in the way we work.
Find ways to pay people for their participation. Reflect on the truth that everyone should be paid equitably.
Break rules, within the spirit of the funding. Do what is needed.
Bring "consent culture" into our partnerships. This means informed consent, free from coercion.
My personal checklist for collaborative work
Because of this dialogue, I now bring guiding questions to my collaborative work:
Who is the "we" bringing people together? The convenor controls the dynamics.
Does everyone have an equitable voice in binding decision-making?  A shift in governance structures is key.
What are the limits of this process? Critical reflection and honest communications provide pathways to equity.
I intend to practice asking and talking more frankly about these key questions. Please remind me, in case I forget!
The Centre for Research on Inner City Health (CRICH) and Health Equity
As Dr. O'Campo noted, most health equity research describes the problem, but less than 1% looks at solutions. CRICH focuses on developing and sharing evidence about the solutions to health equity concerns.  It's a tremendous resource for those of us who want to do the right thing in our efforts to support health equity—to understand pathways forward, and create forums to consider and integrate evidence into our own solutions-focused work.
To join CRICH Knowledge Transfer email list, please contact: crichlist@smh.ca