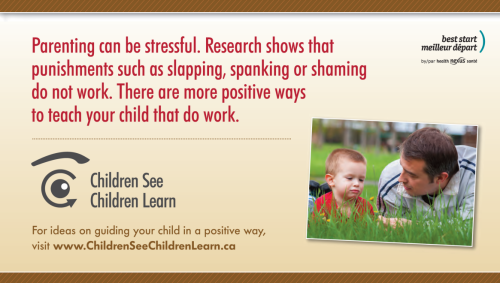 By Christine Morrison
Celebrated every year on November 20th, National Child Day commemorates the United Nations' adoption of two documents centred on children's rights: the United Nations Declaration of the Rights of the Child in 1959 and the United Nations Convention on the Rights of the Child in 1989.
The development of a set of rights, specific to children, recognizes the inherent vulnerability of kids. Children rely on adults for protection and guidance as they grow towards independence.
As parents, we play a crucial role in helping our children achieve their potential and protecting them from harm. A child's capacity to resolve conflict and deal with adversity is learned from their parents. We are critical for role modeling healthy relationships.
All parents want the best for their children, but sometimes we can use some help to ensure we are giving them only the best of ourselves. In a survey of 500 Ontario parents of children six years of age or younger, the majority of parents reported that, at least occasionally, they got annoyed with their child and lost their temper. In fact, 26 per cent of parents had slapped or spanked their children at least occasionally.
Parenting can be stressful. Research shows that punishments such as slapping, spanking or shaming do not work. They can actually harm our children. They can have a negative lasting impact on the relationship. There are more positive ways to teach our children that do work. Children need warmth, understanding and support from birth on.
The Best Start Resource Centre has launched a province-wide campaign called Children See Children Learn to help parents of children from birth to six years to guide their children in a more positive way. Parents can visit www.ChildrenSeeChildrenLearn.ca to view a series of videos, offering age-specific positive discipline techniques.
This year, let's all do our part to ensure our children grow up in an atmosphere of happiness, love and understanding.