Last week, Health Nexus had the privilege of network mapping Community Knowledge Exchange (CKX) Summit attendees to the eight quality of life categories (domains) of the Canadian Index of Wellbeing (CIW).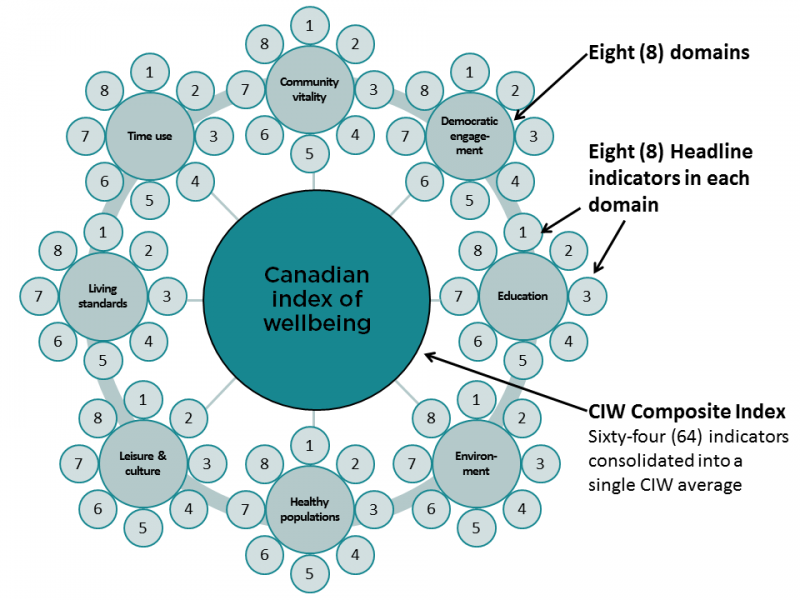 CKX was our learning lab and this was an opportunity to try out new tools. We used an interactive online network mapping tool called Kumu (https://kumu.io).
New ways to "see" connections at gatherings
Our goal was to help people see who else at CKX was interested in the same domains. Summit attendees could then use the maps in combination with Big Rock Labs' Reach app (http://thereachapp.com/) to identify, meet and chat with others with similar interests.  
Patterns of interest showed connections to all 8 domains
Contrary to our initial assumption that people would choose one or two domains, a number of people chose many or all. People from umbrella organizations working with all parts of the community sector, funders, and some businesses felt that their work really connected with all eight domains, and these people form a dense cluster at the centre of the map.
What we were curious about
Would there be connections between sectors and interest in specific domains?   For example, would funders be interested in living standards and would academics be more interested in healthy populations?
What we found
There was no clear grouping of sectors around specific domains.
There is a good mix of sectors working on each domain.
Government-sector participants tend to appear more on the periphery of the map and there were few private sector participants. This may make sense at a community gathering like CKX.
Patterns keep changing as final data entry continues
Do certain domains tend to cluster together or are they all separate? The pattern changed as we added new data over the course of the summit, but the trend we see is that the topic-specific domains – education, healthy populations, environment – tend to stand a bit separate from the more generic domains – time use, living standards, democratic engagement, leisure & culture, and community vitality. However, this may yet change as we enter the final data points!
Explore the maps for yourself at https://kumu.io/robynk/ckx-2014 !  What patterns do you see?