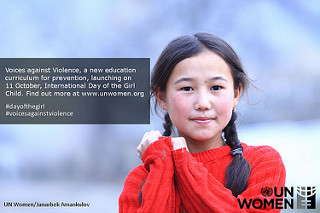 By Monika Goodluck
I found out that today is International Day of the Girl Child.  My first reaction, inevitably influenced by my self-identification as a woman and former girl, was to wonder why I hadn't heard of this day before and why it wasn't more of a big deal in Ontario. So, rather than complain about it, I thought it was better that I learn about it and spread the word.
International Day of the Girl Child was designated by the United Nations (UN) in 2011 to be observed on October 11 of each year, starting in 2012. Given that it has only been a few years, I can understand why it isn't even more recognized yet. According to the United Nations General Assembly, the day is meant to "recognize girls' rights and the unique challenges girls face around the world. The International Day of the Girl Child focuses attention on the need to address the challenges girls face and to promote girls' empowerment and the fulfilment of their human rights."
This year, the UN's slogan for the day is Girls' Progress equals Goals' Progress: What Counts for Girls which is based on its 17 Sustainable Development Goals. The emphasis of the slogan seems to be two-fold: 1- Recognizing that an investment in girls is an investment in the world; 2 – There is a need for data collection and analysis about girls that will inform next steps and progress. That's a very simplistic explanation – I highly recommend reading or at least perusing UNICEF's well-written key messages – the information is powerful.
So, how can you commemorate this day further, in addition to checking out the links above? Here are a few ideas to start:
•    Explore these 12 campaigns to take action
•    Get UNICEF-connected
•    Put one of these 16 ideas from the Status of Women Canada (representing the Government of Canada) into action
•    Use one of the hashtags on social media to bring attention to this day, a girl who's inspired you, or a key message that you want to share. You can also just follow the posts from these hashtags – lots of food for thought! #dayofthegirl #jourdelafille #becauseofher #graceaelle
Every authentic effort counts. Do something today and then continue to do something because this is about sustainability and incremental change. And, in case you're still not convinced, here's a video from UNICEF to energize you.