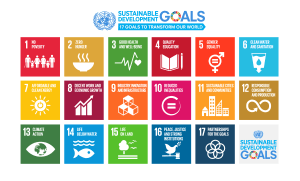 By Barb Willet
For many people that don't work within the health promotion field, the link between sustainable development and health promotion may not be obvious at first. But when one steps back, and views health broadly – such as how it is envisioned in the Ottawa Charter for Health Promotion – the linkages become clear. Health goes beyond freedom from illness and health promotion extends beyond lifestyle.
When viewed holistically, health is impacted by determinants that lie outside of an individual's control: public policies, income, food security/insecurity, housing, education, race, gender, aboriginal status, early childhood development and environmental factors.
In 2015, 17 Sustainable Development Goals were adopted by world leaders as a means to end poverty, fight inequality and injustice and tackle climate change by 2030 – all of which will positively impact on the social determinants of health.
In fact, health promotion activities and interventions are increasingly being recognized for their ability to impact within communities and around the world.
Take breastfeeding as an example. Breastfeeding is known to protect babies from infectious disease and promote optimal growth, health and development of infants. Breastfeeding can also improve maternal health and help promote bonding.  From a sustainability perspective, breastfeeding is also environmentally friendly, is a readily available food source for infants and contributes to good health.
 The upcoming 6th Global Forum on Health Promotion in Charlottetown PEI next month offers a unique international opportunity for health promotion practitioners, policymakers, government leaders, researchers and educators.  In addition to celebrating the 30th anniversary of the Ottawa Charter for Health Promotion, the Forum will also highlight the important contributions of communities and citizens towards sustainable development.
Every day health promotion practitioners work to improve factors that shape health and well-being through a variety of ways, from supporting local communities through health promoting programs that improve the social determinants of health, to shaping policies that optimize population health.
Viewing health promotion as a contributing factor to sustainable development, and necessary to the achievement of the ambitious goals set by the United Nations, allows us to see how what happens in our communities is connect to and impacts on the rest of the world.