By Andrea Bodkin
One of my favourite nights of the year is the night we gather to recognize the nominees, recipient and finalists of the Health Leadership Award. It's an inspirational night at a gorgeous venue with amazing food, and this year's event was no exception. I wanted to share with you some of my reflections on the Gala, the leaders, and leadership.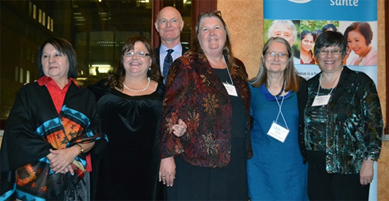 What's striking about the recipients and finalists of the Leadership Award is that every one of them (every year!) acknowledges that while they are the ones being recognized as leaders, the nomination and recognition really belongs to their whole community. Yet it is their communities who recognize them as leaders and nominate them for this award.  Clearly one of the characteristics that we so value in leaders in health promotion and social determinants of health is the ability mobilize people, fully engage them and value their contributions.
One of this year's finalists -- Leslie Dunning, who worked with the Canadian Red Cross for 37 years -- shared two pieces of advice that she was given on her first day of work.
The first is that everyone wants to contribute something -- you just need to ask. Leaders must be able to recognize the gifts of those around them and value the contributions of others.
The second lesson is that you can accomplish almost anything as long as you don't care who gets the credit for it. This speaks to the vision that leaders must have: their sense of purpose in the work that they do, and the belief that the work is more important than their role in it.
Another finalist, Teresa Fleming, told a strong story about Deaf culture that reinforced for us that difference is not the same as disability.
This year's keynote speaker, Dr Jim Lavery, believes that a key aspect of leadership is creating and sustaining the relationships that others want to contribute. He defines a leader as someone who helps others to be able to contribute. While initially people might follow you because of your role (manager, consultant, soccer coach), excellent leaders induce people to push themselves to greater and greater successes.
One of the things that I so love about the Health Leadership Award is that it recognizes community leaders who often don't recognize themselves as such and gives them an opportunity to reflect on their own achievements. And we get to be inspired by their great work.