By Suzanne Schwenger 
Last week, Health Nexus held our Gala Awards ceremony  for the 3M Health Leadership Award, honouring 2014 recipient Joy Finney and four finalists from across Canada.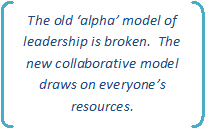 As we heard the stories of community leadership, it reminded me of a wonderful lecture that I attended in November, given by Marshall Ganz, a professor at Harvard's John F. Kennedy School. He is also a co-founder of the Leading Change Network. This event was sponsored by the University of Toronto and Samara Canada.
5 key practices
A long-time community organizer and social activist, Ganz used storytelling and humour to outline five key practices for leading change.  Here is a synopsis of his lecture:
Build relationships
Mobilization takes more than organization. To sustain a movement you need relationships, and that takes commitment. Think of relationships as beginnings, not endings.  When each person brings 2-3 other people, you have growing networks of relationships on the ground.
Connect to the heart
To break habits, you need to tap into sources of hope and empathy, and tell stories that show how people overcome challenge. Storytelling and narrative is a way to communicate emotional content of experience.  When organizing in the community, use the power of stories so that people can know why you are doing what you are doing.  Claim authorship of your own story!
Have a strategy
How can I use what I have to do what I need to get what I want? Everyone strategizes every day—just to get from point A to point B. When we work in the community, we need to flip any notions of dependence to become interdependency, and address the question of power. Pay attention to all of the resources in the community— including people's hearts and imaginations.  Unless people are the fundamental resource of the change, you are not really changing.
Move to action
All of this work has to turn into something real, and something we can learn from.  Constantly ask yourself, 'What can I learn?' In the domain of learning, we always have more to learn.
Think about how you learned to ride to a bike- did you take a course on bike-riding? No, you learned by doing and by falling, and by having the courage to get back on.
Create structures that support collaboration
Leadership is no longer about the 'alpha' leader, but about being part of a team where we are all leaders. But without structure, there is no space for creativity and imagination. A distributed leadership structure is like a snowflake— you need to ask how people will honour commitments, and who is responsible for providing leadership for the different parts. Then you create opportunities for people to grow their leadership skills within the work.