Our first webinar on Networks 101 was a big success.  We were thrilled with the diversity of the nearly 50 participants who joined from 7 provinces and territories across Canada.  They included people from a wide range of sectors: health promotion, community development, social planning, the research community, arts coalitions, public health and government.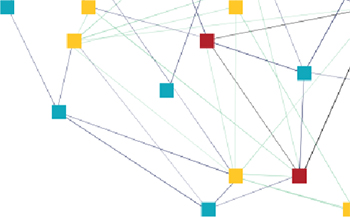 Most exciting, is that so many people are interested in how to make cross-sectoral partnerships work.
Effective collaboration takes a network mindset
Moving from an organizational mindset, which most often involves centralized decision-making, to a more distributed network model, is definitely a skill for the 21st Century. It requires active participation, shared communication and collaborative leadership. 
Webinar participants were particularly interested in characteristics of collaborative leadership models and identifying the skills to help them develop and grow. Stay tuned for a follow-up webinar soon!
Network weaving can make networks more vibrant, sustainable
 Network Weaving, a term invented by June Holley, is a strategy to broaden and diversify the voices around the table, create sustainable networks with multiple connections, and focus on the quality of the personal relationships between the individuals that start these conversations in communities. Inviting others in doesn't weaken your output. It strengthens it.
Webinar participants learned how to scan a network map to look for opportunities to link people who are not yet connected…a process known as closing a triangle.  This network intervention can be done in person, via-email or social media.  And it works!
In this ever-changing environment, most of us are looking for new ways to find information quickly, work creatively and test ideas safely.  We look forward to learning together with you.
Find out more
Contact us
We'd love to chat with you.  Are you involved in an interesting group or partnership in your community? We love hearing about your experiences with networks and how they are working…or not! 
Talk to you soon!
 Penny, Suzanne and the Health Nexus Network Mapping team